In the past, when people talk about Search Engine Optimization (SEO), they often refer to natural or organic or traditional SEO. As SEO continues to evolve, search engines are constantly striving to provide online users the most relevant results for their search queries. Google made the bold step in 2012 by releasing an update (Venice update) that established the distinct difference between Natural SEO and Local SEO.
Let's take a look at the definitions and examples of both Natural SEO and Local SEO.
What is Natural SEO?
Natural or Organic SEO involves optimizing websites for certain keywords, and getting them ranked on search engines for those keywords. An example of a business that would require natural SEO is an online based business (e.g. an online retail store) which may or may not have a physical location.
Some examples of targeted keywords that could be used by online businesses for natural SEO campaign include:
Health and safety training
Daily deals
Cheap flights
Affordable women jewelries
Furniture retailer company
HR management software
Self-publishing company
What is Local SEO?
Local SEO involves building relevant signals around a particular location or multiple locations, especially where the business is being carried out. Good examples of businesses in Nigeria that would require Local SEO are:
Vet Doctor in Ikeja
Ice Cream Shop Ugbowo Benin City
Lekki Plumbing Company
Cheap logo designer Lagos
Digital Marketing Agency Ikeja
CCTV Installation Port Harcourt
Commercial cleaners Wuse
Now let's look at some key differences between Natural SEO and Local SEO
A link is created when other websites are linking to your own website. Search engines like Google use the quality of these links to determine how valuable your website is before presenting it to users via their search queries. Links from high authoritative websites carry higher reputation, and can help improve your website's reliability and trust.
On the other hand, citations are mentions of your business on citation websites or business directories referencing your business name, address, phone number and website. Citation helps to validate the existence of a business in a geographical location, thereby increasing the relevance of that business for search queries made within its geographical location. The more quality and consistent citation, the higher a business would rank on local search engine result page.
Google Search Results Page
The search results for Natural SEO differs from that of Local SEO.
Searching on google.com.ng for keyword "digital marketing agency" shows the image below: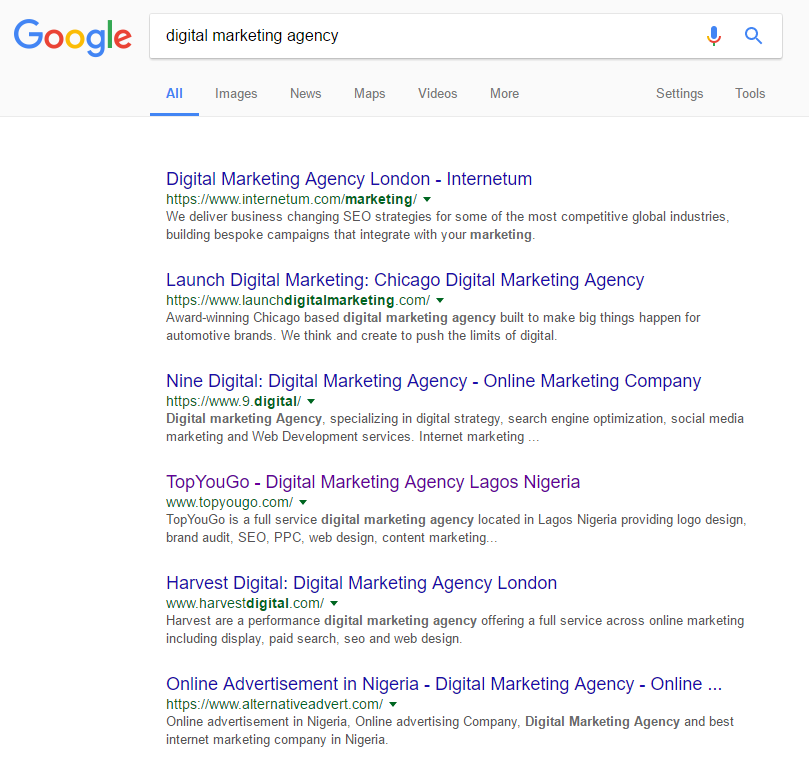 While searching for "digital marketing agency Ikeja" shows the image below: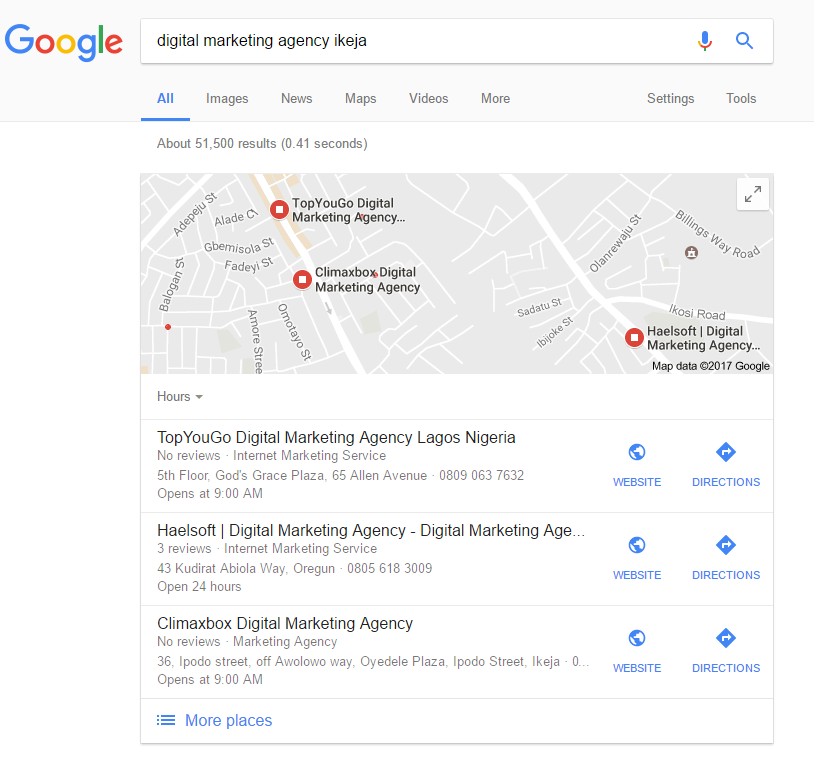 The above images, clearly shows that search results for Local SEO differs from that of Natural SEO. The local SEO search results further shows the business name, address, phone number, opening times, reviews, website, and direction.
In conclusion, quality links are required in order to improve ranking for organic searches, while relevant and consistent citations are key to ranking high on local searches. If you have a local business, then you require a local SEO, and if you have a business that targets online users generally, then you require Natural SEO. If you have a physical business location and also provide your services online, just as TopYouGo Digital Marketing Agency appears in both images above, you can also optimize your business for both Natural and Local SEO.